To place a deposit for service, do so here: https://www.eccomachine.net/product/bravo-conversion-service/
When you complete the $20 online purchase, you are making a DEPOSIT for the mount conversion service;
conversion pricing is listed below.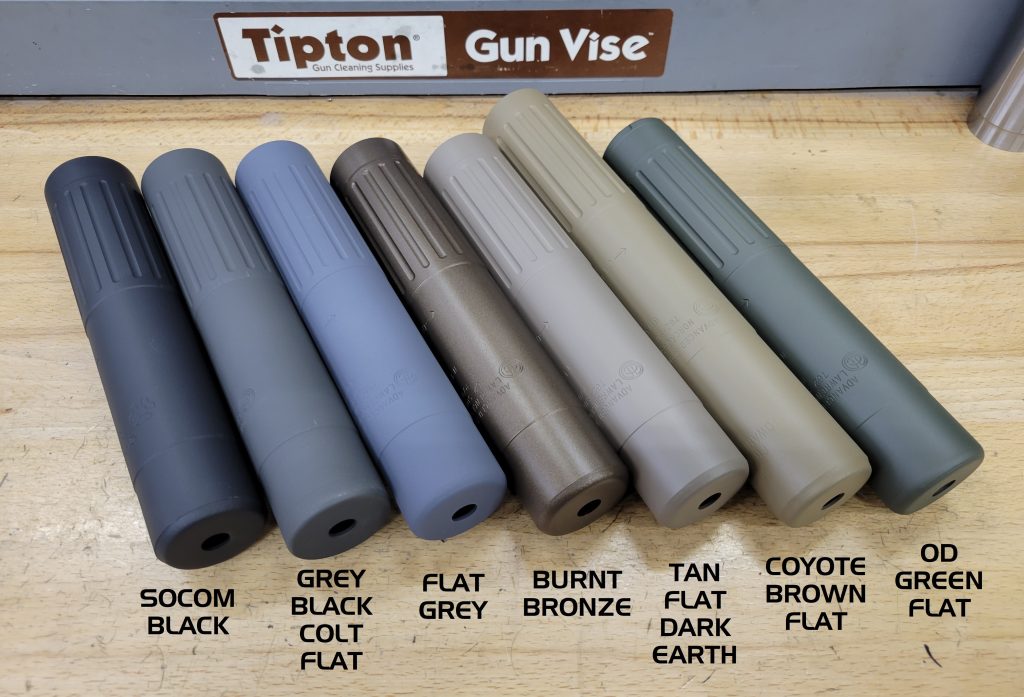 Download our work order to send in with your suppressor: Conversion-Work-Order-1
You will need to send in your suppressor for this service. The balance for the service and return shipping fees will be invoiced upon service completion.
We do a batch of conversions approximately every six weeks; lead time is dependent on the date of our next batch relative to the date we receive your suppressor.
Ship to:
ECCO Machine
37245 Quail Dr
Elizabeth, CO 80107
A copy of your approved Form 4 must be emailed to us or printed and included in the package.
(if a can that is still "in jail" and being sent by the transferring dealer for service, a copy of the dealer's Form 3-. NOTE: We do not accept form 3 transfers for items coming in for service. No change of ownership for a gunsmithing operation is necessary)
If you are unable to print the work order, please complete the PDF and email it to us, then include a note IN THE PACKAGE detailing:
-Your full name
-Your email address
-Your return shipping address
-Your phone number (text message capable preferred)
-What service we are performing
-Any other parts sent with it
*A detailed shipping manifest (packing list) is necessary for us to confirm that all items/parts sent are accounted for upon receipt, and to contact you immediately if we're unable to find something that's supposed to be in your parcel. If there is not a detailed manifest included with your items, ECCO Machine accepts no responsibility for items that are claimed to have been included but were not found.
We recommend insuring all packages for full value, and we recommend UPS for shipping. USPS prohibits non-FFLs shipping handguns or suppressors, and other carriers are enforcing new policies that may make it difficult to ship. If you do not have a local FFL who can ship for you, please contact us and we'll get you a UPS label on our Firearms-Approved account for hub drop-off. We will be able to return the suppressor directly to the registered owner.
Please only send in the suppressor and mounts, adapters or muzzle devices. Due to our service item storage system as well as packaging and shipping costs, we highly recommend that you do not send in the OEM box or any other bulky box or case that you want returned with your suppressor. Return shipping fees will be calculated at the end of the service and added to your invoice; if a large manufacturer box or a bulky case is included, there will be an additional $5.00 fee added to actual return shipping costs. Anything which exceeds 3″ tall, 3″ wide or 12″ long is considered bulky.
Deposits are fully refundable for 5 days, 75% refundable for 30 days, non-refundable after 30 days. Deposits do not ever expire.

---
The deposit is for a service to be performed in our shop and requires action from you to send in the suppressor for service. If you paid a deposit, the cost will be applied to your final invoice total at time of completion.
---
Pricing
Pricing is as follows (shipping notwithstanding):
1.375-24 Bravo (HUB) conversion on most steel or stainless steel bodied suppressors $190.00, refinish included
1.375-24 Bravo (HUB) conversion on most Titanium suppressors $195.00, refinish included
1.375-24 Bravo (HUB) conversion on suppressors which can be bored & threaded without the need for a conversion piece: $75, refinish included
IMPORTANT NOTE: The conversion allows the suppressor to accept any Omega/Bravo pattern mount, but *DOES NOT* include one.
We sell a wide variety of different mounts and adapters that we manufacture in house for you to choose from if you would like to purchase at time of service or from our online store at any time.
*We do not stock or sell any other manufacturer's parts. * We HIGHLY recommend that you send in or drop ship any mounts from another manufacturer so we can guarantee fitment.
Popular Suppressors for Conversion
Below is an alphabetical list of suppressors commonly sent in for this service. This list does not include every suppressor we have ever converted, just frequent flyers. There are many others that can be done. If you want to have a mount conversion done and do not see your suppressor make and/or model listed below and in the dropdown, please reach out to us directly to discuss.
AAC M4-1000
AAC M4-2000
AAC Mini 4
AAC 7.62 SDN-6
AAC 7.62 SD
AAC 5.56 SD
AAC Scar
AAC SR5
AAC SR7
AAC SPR/M4
AAC Cyclone
AAC Ranger
AAC 300 TM
AAC Mk 13 SD
AAC TiTAN QD
Dead Air Sandman
Dead Air Sandman Ti
Gemtech TREK
Gemtech M4-96D
Gemtech Halo
Gemtech HVT
Gemtech Quicksand
Gemtech Sandstorm
Griffin M4SD
Griffin 30 SD
Griffin RECCE
Rugged Radiant
Rugged Razor
Rugged Surge
Rugged Micro 30
Sig SRD 7.62
Sig SRD 7.62QD
Sig SRD 5.56
Sig SRD 5.56 QD
Surefire RC2
SWR/SilencerCo Specwar
SWR/SilencerCo Saker
TAC ORD TAC-16
YHM Turbo
YHM Resonator
YHM Phantom 7.62
YHM Phantom 7.62 Ti
YHM Phantom 5.56
YHM Phantom LT
---
Moly Resin Color Selection (refinish of entire suppressor is included in conversion pricing)
SOCOM Black
Grey-Black Colt Flat
Flat Grey
Coyote Brown
Tan FDE
OD Green
Foliage Green
Burnt Bronze
Flat Brown
Add Ons and Additional Options
Purchase of ECCO Machine 1.375-24 Bravo Mount/Adapters
ECCO Machine Gyrex taper mount and suppressor adapters
ECCO Machine Direct Thread Adapters in a vast array of different female thread patterns
Cherry Bomb/Rearden muzzle device compatible adapters
Griffin pattern .7" long or 1.0″ XL adapters
Rugged taper mount adapters
SAS T.O.M.B. mount adapters
Thunderbeast CB adaptersSurefire Trainer/Warden conversion service available
Moly Resin Refinish Mount/Adapter (there are some multi-piece mounts that we do not refinish due to inability to disassemble & reassemble without parts replacement or risking damage)
ECCO Machine mounts/adapters; no charge for refinishing same color as suppressor
Other one-piece mounts/adapters; no charge for refinishing same color as suppressor
Multi-piece adapters (ex: Dead Air Keymo); +$25.00
Rocksett Mount/Adapter in suppressor; no charge
End cap repairs or replacements (price varies, often no charge if it can simply be formed back to shape and cleaned up, usually $40-$65 for weld repairs or replacement)
Dead Air front end cap conversion (Not available on all models); $75.00

We do not stock or sell Dead Air front caps, so if you elect and we are able to perform that conversion on your suppressor, you will need to source your own caps.
If you desire the cap to be finished to match the suppressor, it needs to be included. There is no additional charge for refinishing the cap at the time of conversion with refinish.
Download and complete our Mount Conversion Work Order below.
This document must accompany your suppressor when arriving to the shop for this service.
(If you choose not to place a service deposit, you must contact us prior to shipping. We need to have an email dialog with you prior to items coming to the shop for service. )