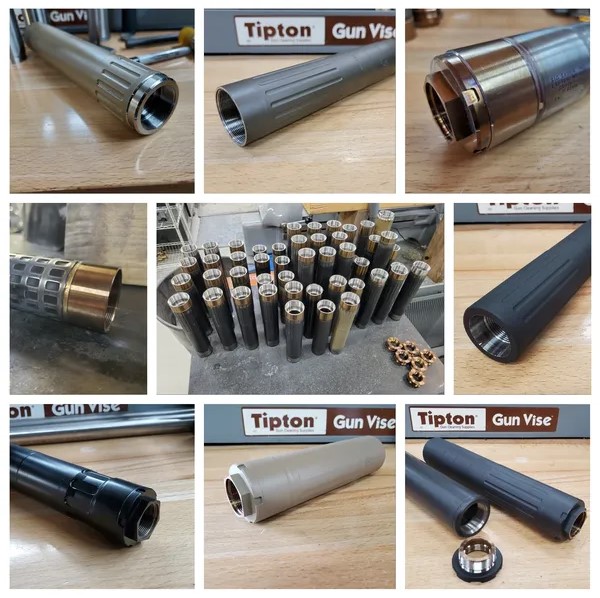 Suppressor Mount Conversions
ECCO Machine offers mount conversion services using our patent pending Conversion Pieces for most suppressors. We can remove the original unsatisfactory mounting system on your suppressor and convert it to use mounts & adapters in industry standard 1.375-24 Bravo pattern.

1.375-24 Bravo (H.U.B., Omega 300, Hybrid pattern) conversion with Moly Resin refinish is $190 + shipping for carbon & stainless steel tube suppressors ($195 for titanium tube suppressors).  The conversion allows the suppressor to accept any Omega/Bravo pattern mount, but *DOES NOT* include one.  We do not stock or sell any of the Omega mounts besides the ones we manufacture, recommend dealing with Hansohn Brothers or Capital Armory for those.

Some suppressors lack the diameter to support 1.375-24 Bravo threads; for these, a popular option is 1.125-28 Alpha pattern, but we may also be able to use 1.180-24 Gemtech/Liberty pattern or 1.203-28 Dead Air pattern.

We run mount conversion batches approximately every 6 weeks and no longer have a backlog.
Please email us to learn more and for information on how to send in for this service!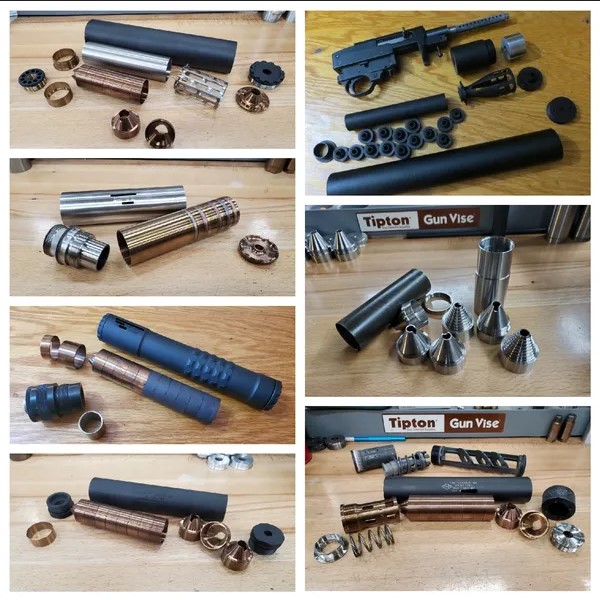 Suppressor Recoring Services
ECCO Machine offers recoring services for all legal production (Form 4) and Form 1 suppressors. We can employ both serviceable and fully welded non-serviceable core designs, as well as tubeless recores, although not all suppressors have all core type options available due to their construction. We are able to improve your can in one of more of the categories of performance, durability & serviceability, as well as often reducing weight considerably on many rifle suppressors. Full warranty against defects in materials & workmanship.

The price range for recoring is highly variable, but we are generally able to ballpark pretty accurately if you can tell us the length, inside diameter and whether it will be optimized for subsonic/low pressure or high velocity cartridges. Most centerfire suppressor recores end up somewhere between $300-$550, rimfires generally in the $200-$300 range.

We can replace any & all parts except for the main tube/primary tube segment, and we do have some pretty trick solutions for cracked or catastrophically damaged tubes as long as the engraving is in-tact!

Typical turnaround is 4-6 weeks
Please email us to learn more and for information on how to send in for this service!
We offer barrel threading services for most handguns, including unconventional solutions for those weapons which "can't be threaded". Note: RIFLE BARREL THREADING HAS BEEN DISCONTINUED UNTIL FURTHER NOTICE!

Pistol Barrel threading with extension adapters is typically $110 + shipping.
Please email us to learn more and for information on how to send in for this service!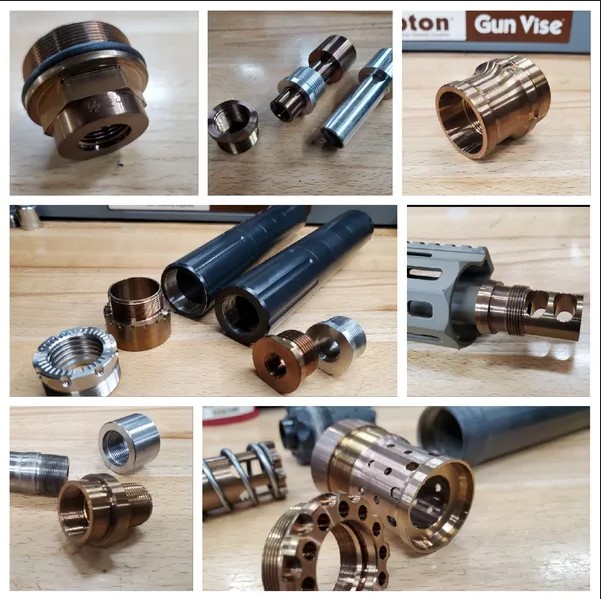 Custom Parts, Mounts & Adapters
If we don't already offer what you need as a production item, inquire with us about custom options! We have so many existing patterns than your custom may really be a semi-custom at a very affordable price if we're able to run it on the CNCs with the production parts. True one-off custom pieces will be masterfully machined on precision manual lathes and mills.


Sorry, but we cannot sell anything that would be considered a silencer part unless it is part of a recore for a suppressor we have here for service. This includes tubes/tube segments, baffles ("cups"), spacers & end caps (unless for a production can from a manufacturer who also sells them)
Please email us to learn more and for information on how to send in for our services!