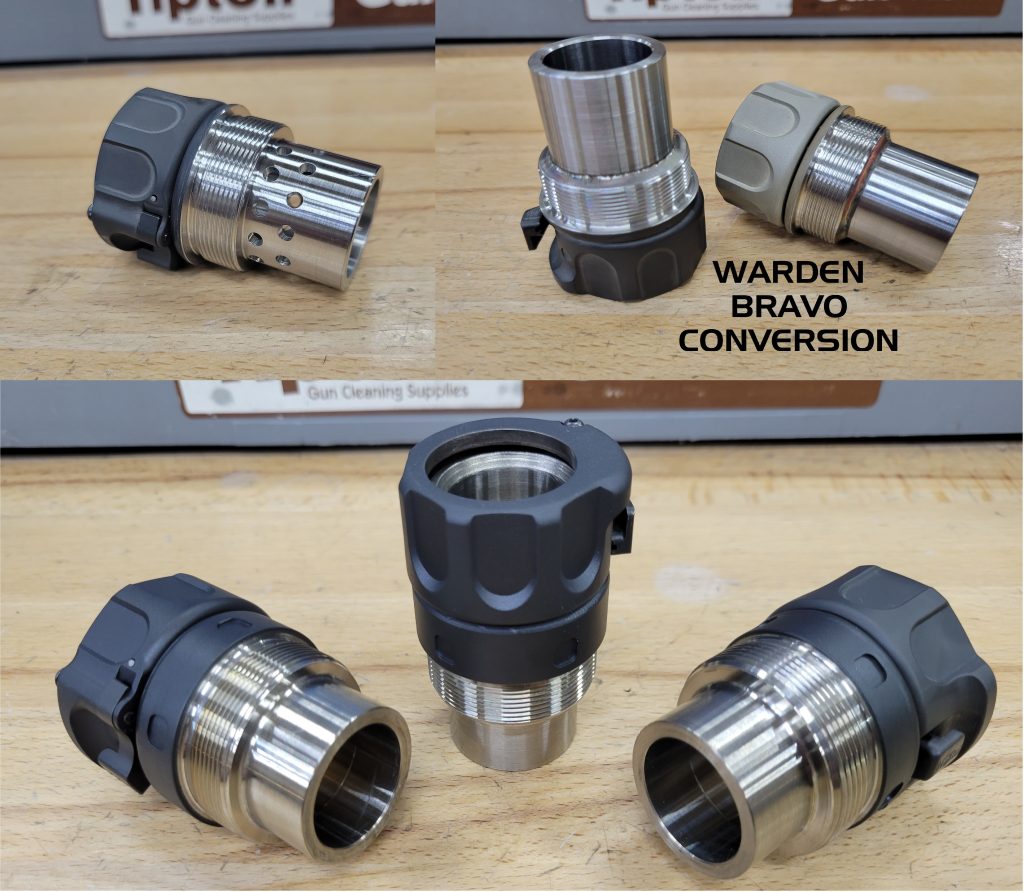 ---
Yes! We can convert your supplied Surefire Trainer or Warden into a 1.375-24 Bravo ("ASR") mount adapter. Simply contact us and we'll provide shipping instructions, then we'll settle up and ship it back when it's done approximately 1-3 weeks after we receive it. This is strictly a service for the Trainer or Warden YOU supply. At this time, we do not stock any trainers or Wardens, nor do we have already converted units on hand
---
Pricing
Pricing is as follows (shipping notwithstanding):
Steel bodied Surefire trainer 1.375-24 Bravo conversion: $95
Aluminum bodied Surefire trainer/BFD 1.375-24 Bravo conversion: $150
Surefire Warden 1.375-24 Bravo conversion: $135
Add porting: +$50
Add moly resin refinish: +$25
---
Additional Warden Options
For Wardens, you will need to specify if you want a low profile conversion or one with spanner wrench notches (see images). This is for Wardens only, and we can do 1.375-24 Bravo threads or 1.4375-20 D cell threads. Porting is NOT able to be done with the spanner wrench notch conversion.
Porting
Porting of your trainer/warden conversion may or may not be beneficial, depends on the suppressor(s) to be used with it. Porting, which consists of 2 offset rows of 12 ports, allows venting of gas laterally before the bullet exits the muzzle device, which can promote better blast chamber efficiency when there is sufficient blast chamber. The diameter of a converted Trainer/Warden forward of the threads is 1.1″, so if your blast chamber or adapter inside diameter is close to that, the porting really won't serve any useful purpose and may cause difficulty with removal due to carbon deposits. Porting is NOT beneficial with our Bravo conversion of most AAC cans, as the conversion piece has a 1.115″ inside diameter.
Moly Resin Color Selection
SOCOM Black
Grey-Black Colt Flat
Flat Grey
Coyote Brown
Tan FDE
OD Green
Foliage Green
Burnt Bronze
Flat Brown
---
*Converted Trainers/Wardens are NOT usable with our Alpha to Bravo or 1.180-24 to Bravo adapters, as the male thread minor diameters on them dictate a through-bore smaller than the 1.1″ OD forward portion of the converted Surefire mount